Workers' Compensation
The current economic climate in the United States has most companies searching for ways to save on expenses in order to increase their profitability. One of the largest expenses is the continued rise in health care costs -- including workers' compensation.
The greatest cost per dollar in workers' compensation is the indemnity cost. This is the cost companies pay to injured workers while they are off from work. Statistically speaking, an astonishing 55 cents of every dollar spent is on indemnity costs, while only 45 cents of every dollar are spent on the actual medical costs.
Companies can greatly reduce their workers' compensation costs by providing light duty return to work programs, and Hereford Physical Therapy & Sports Medicine can help you implement such programs.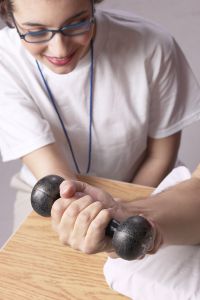 We will work closely with a company's human resource and safety management departments to identify possible light duty positions within the scope of an injured worker's restrictions. A return to a light duty position will help both the injured worker and the company. The program will bridge the recovery time until the injured worker has recovered and reached full duty status; and it will keep that employee as an active contributor to the company. Both sides benefit!
In contrast, it has been demonstrated that if an injured worker is off work for greater than twelve weeks, they have a less than 50% chance of ever returning to their pre-injury position.
In treating employees that have been injured at their place of work, Hereford Physical Therapy & Sports Medicine uses a methodology similar to our sports medicine model of care. We establish relationships with the patient's physicians, nurses, dietitians, and other health care clinicians, as well as the patient's employer in order to provide a high quality, custom treatment program. Communication among all members of the team is essential to ensure continuity of care and a safe, speedy recovery.
Our treatment programs also place special emphasis on the prevention of injury as well as the rehabilitation of an injury once they occur. We understand the importance of training and conditioning to prevent further injury. Thus, patient education is a large part of treatment, and helps to guarantee results.
By utilizing this model, we can help companies greatly reduce both medical and indemnity costs.
Hereford Physical Therapy & Sports Medicine is an active participant with Maryland Workers' Compensation carriers.
Programs Offered by Hereford Physical Therapy & Sports Medicine
Post Injury Physical Therapy and Work Reconditioning
We will provide progressive rehabilitation techniques to assist employees in injury recovery and reconditioning.
Medical Case Management
Our therapy team will work closely with your insurance company or TPA (Third Party Administrator) to provide prompt and efficient medical care to the injured worker. We will continuously assess the injured workers progress during physical therapy and actively communicate this progress with the employer and the Insurance Company. We can provide companies with a preferred health care provider's list. This list identifies providers with experience in occupational medicine and our sports medicine model of care. We have identified local healthcare providers that will provide the best medical care available assisting the injured worker to recovery.
Work Risk Analysis
Hereford Physical Therapy & Sports Medicine staff can provide ergonomic work risk assessment & analysis of your workplace. We will offer suggestions and provide solutions for decreasing ergonomically related injuries.
Employee Training
Our staff can provide a variety of employee training ranging from neck/back schools, preferred lifting techniques, ergonomics classes, health promotions and injury prevention tips.
Please call Hereford Physical Therapy & Sports Medicine for assistance or consultation with your workers' compensation needs.
[ Back to Services ]