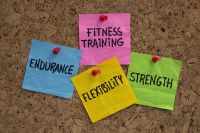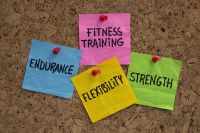 Wellness Programs
In our continued efforts keep everyone Active, Mobile and Healthy we embrace the wellness model as part of a continued effort to prevent injury and promote maintenance of overall health.
While the formal medical model physical therapy is necessary when there is an injury, the wellness model centers on prevention of injury and trying to optimize overall health in your body to avoid illness in the first place.
Our  yoga and flexibility and balance programs are staffed by highly qualified Physical Therapists, Athletic trainers and exercise specialist. We strive to provide the same level of care and expertise provided to our patients in our clinic.
Meet Our Instructors
David Asher is certified as a Health Coach and Group Fitness instructor with the American Council on Exercise. He has been teaching yoga for 9 years. He believes that making people healthier is more than just pumping iron. To him, health is about really thriving in the body you have. His philosophy is that strength, balance and flexibility in the body need to be balanced with peace, joy and happiness in the mind.
Monica Golder, PT  has been a practicing physical therapist for 30 years.   Monica has learned the importance of incorporating exercise and wellness into our daily lives. She feels staying active is important to aging successfully. Monica attends yoga, Pilates classes, and walks for exercise. At Hereford Physical Therapy Monica currently leads a wellness class in Flexibility and Balance while practicing physical therapy in the clinic.
Monica earned her degree in Physical Therapy at the University of Maryland at Baltimore and is licensed by the Maryland Board of Physical Therapy Examiners. Her experience in many settings including acute care, rehabilitation, outpatient and hospice has given her a broad foundation. Monica enjoys using that experience to assist patients in their recovery from their illness or injury.
Monica is a certified exercise expert for aging adults with the Academy of Geriatrics, American Physical therapy Association. This certification recognizes Monica's extra training in designing and implementing exercise programs for aging adults. She has taken the basic yoga instructors course and classes in Yoga for rehabilitation. This year Monica began her certification training with the Australian Physiotherapy and Pilates Institute as a Pilates instructor. The APPI training will allow Monica to use Pilates exercises in the clinic to improve patient outcomes as well as teach classes.
Our instructors can adapt classes to meet the needs of people returning to community based exercise programs after injury or surgery.
Click here to read more about our instructors. And, see our Calendar for updated class schedules and times.
Classes and Schedule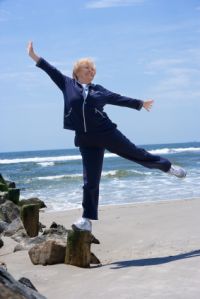 Flexibility & Balance: Tuesday – 11am – 12pm 
HPT's Flexibility & Balance is a beginner level class that focuses on stretching the entire body using principles from Yoga, Pilates and Tai-Chi.The class will cover breathing techniques and adaptive stretching techniques (chair based as needed). Balance activities included to help promote fitness, maximize function and Falls Prevention. Class Schedule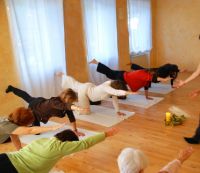 Hatha Yoga: Tue – 6:00 pm
Yoga can be as much or as little as you want it to be. For some it is purely a physical pursuit, keeping the body toned, strong and flexible. For others, yoga becomes more of a mindset and a way of living. Everyone can practice yoga. Regardless of age, experience, or level of flexibility – we can all benefit from yoga if we maintain "mental flexibility"… patience! Yoga Instructor Dave Asher provides a friendly, supportive and attitude-free environment as you practice. We offer a variety of active and meditative yoga classes to help bring balance to your day. Yoga, like life, is about finding bliss and serenity in the moment. So come on in, relax and learn to 'be' your yoga. Class Schedule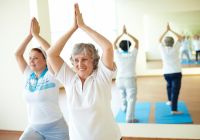 Gentle Yoga: Monday & Thursday – 10:00 am
This is a beginners class focusing on Yoga principles for a total body stretching and balance experience. This class is a nice adjunct to Monica's Monday Flexibility & Balance class. Class Schedule