Wellness Programs
Hereford Physical Therapy is pleased to offer a variety of Health & Wellness programs. HPT Wellness is staffed by highly qualified Physical Therapists, Athletic Trainers, Personal Trainers and Exercise Specialists. We strive to provide the same level of care and expertise provided to our patients in our clinic. The staff can adapt classes to meet the needs of people returning to community based exercises after injury or surgery. We also provide injury prevention training and return to sports programs. All levels of fitness can be accommodated.
Dave Asher Yoga
Yoga: Tue – 6:00 pm
Yoga can be as much or as little as you want it to be. For some it is purely a physical pursuit, keeping the body toned, strong and flexible. For others, yoga becomes more of a mindset and a way of living. Everyone can practice yoga. Regardless of age, experience, or level of flexibility – we can all benefit from yoga if we maintain "mental flexibility"… patience! Yoga Instructor Dave Asher provides a friendly, supportive and attitude-free environment as you practice. We offer a variety of active and meditative yoga classes to help bring balance to your day. Yoga, like life, is about finding bliss and serenity in the moment. So come on in, relax and learn to 'be' your yoga.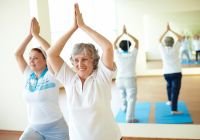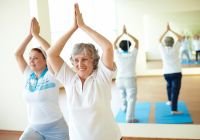 Dave Asher Gentle Yoga
Yoga: Thu – 10:00 am
This is a beginners class focusing on Yoga principles for a total body stretching and balance experience. This class is a nice adjunct to Monica's Monday Flexibility & Balance class.
Dagmar Bohlmann Yoga
Yoga: Tues  8:30am 
Dagmar received her RYT200 certification thru Charm City Yoga in Baltimore and has attended over 500 hours of training related to health, kinesiology and anatomy.  Dagmar's aim as a teacher "Is to uplift and inspire others. I guide my students to find their highest potential as they unite body, mind and breath in the present moment"
Flexibility & Balance
Flexibility & Balance: Mon – 10am – 11am 
HPT's Flexibility & Balance is a beginner level class that focuses on stretching the entire body using principles from Yoga, Pilates and Tai-Chi. The class will cover breathing techniques and adaptive stretching techniques (chair based as needed). Balance activities included to help promote fitness, maximize function and Falls Prevention.